HylaRub™
Joint and Muscle Cream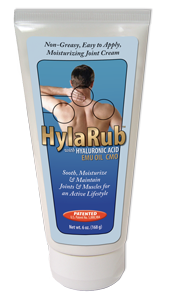 A pleasant smelling cream which uses patented ingredients to help sooth, moisturize and maintain healthy joints and muscles for an active lifestyle. hyaluronic acid(HA) and Cetyl Myristoleate(CMO) for their ability to lubricate joints and Emu Oil to penetrate deep into the skin tissue.
Sooth & moisturize joints and muscles
Quick absorbing and moisturizing
Non-greasy, easy to apply
Patented ingredients
Pleasant scent
HylaRub™ comes in a 6 oz. tube, approximately two months supply. MSRP is $29.95. HylaRub™ is Professional Grade and now available at locations near you or online-
click here for locations
Directions
Sparingly apply soothing cream to skin around the joints and muscles as needed.
HylaRub™ Smart Tips
There are many ways to use HylaRub™, these are just a few.
Apply to hands before playing golf to increase grip
Apply to cramps before bed for a good night's sleep
Apply to joints and muscles before sporting events
Apply to lower back & elbows before playing tennis
Apply to feet after a long day at work
Ingredients
Water, Cetyl Myristate, Cetyl Oleate (CMO), Emu Oil, Emulsifying Wax, Glycerin, Stearic Acid, Cetyl Alcohol, L-Arginine, Peppermint Oil, hyaluronic acid, Lactoperoxidase, Glucose Oxidase, Glucose, Capsaicin.
Warnings
For external use only. If redness or irritation occurs, discontinue use. Avoid contact with eyes. Do not apply to open wounds or damaged skin. Keep out of reach of children.